Speakers
Want to learn shiny new things about UX and design? Our friendly, knowledgeable and approachable speakers will help and inspire you. You'll also have time to ask all your questions!
We will announce our first speakers and workshop teachers soon! Our speakers and workshop teachers are the best in their fields, and they love to share what they know, how they work and what drives them. On top of that, they are all smashingly nice, and really want to help!
Had a wonderful day @smashingconf. Thanks for putting up such a great event! And so happy that it's happening all over again in 2024. #smashingconf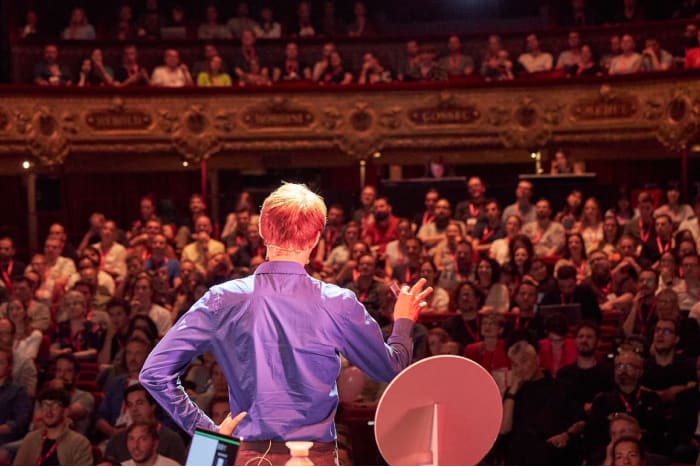 Nathan co-founded EightShapes with Dan Brown in 2006. He's passionate about information architecture, UX, front-end dev, and leads design systems consulting at EightShapes. He wrote Modular Web Design in 2009, blogs frequently on Medium.com today, and speaks regularly at events worldwide.

Harrison builds teams, inspires through storytelling, and communicates complex design ideas to both technical and non-technical audiences to ensure that products are as effective as they are beautiful.

Currently, he's a Director of Product Design at LinkedIn, where he focuses on people management and building the vision for consumer and enterprise experiences.

Outside of work, he enjoys contributing to the UX Design community through articles, interviews, and speaking about all things design. This interest inspired him to launch Technically Speaking with Harrison Wheeler, a podcast about BIPOC designers, entrepreneurs & technologists sharing their unique challenges, triumphs, and the "why" behind their decisions.

Maggie Appleton is a designer, anthopologist and (mediocre — her words :)) developer. She's originally from London but grew up in international schools in Hong Kong, Vietnam, Thailand, and Singapore. After a career at various education and open source initiatives, she now leads design at Elicit.

Design, anthropology, and programming are at the core of everything she makes, and combining them into a coherent career is a weird and ongoing challenge.

Cameron is a design director with over 13 years of experience working in San Francisco, London, Singapore, and Los Angeles. He has worked with renowned companies such as Apple, Beats by Dre, Twitter and currently with Wise.

Cameron's background primarily focuses on large-scale consumer-facing products. He is an expert in research-driven design strategy, rapid prototyping, and global design systems that span millions of users.

As a designer and leader, he is passionate about collaborating with great people to create exceptional work.

Vitaly Friedman loves beautiful content and doesn't like to give in easily. When he is not writing or speaking at a conference, he's most probably running front-end/UX workshops and webinars. He loves solving complex UX, front-end and performance problems.

Obviously, our Mystery Speaker is a bit of a… well, Mystery. In true smashing style, you can expect something wonderful. Make sure to set your alarm on day two of the conference, because you don't want to miss this.