Speakers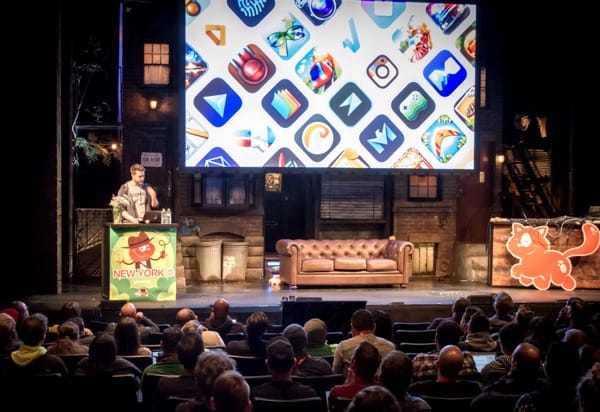 Want to learn new things on front-end and UX? Aching for fresh inspiration and learning new skills? Let our speakers help and inspire you.
Our speakers and workshop teachers are the best in their fields, and they love to share what they know, how they work and what drives them. Let our speakers and teachers help and inspire you. On top of that, they are all smashingly nice.
We plan to announce our first speakers soon. Stay updated on the latest speakers and topics via our newsletter or follow us on Twitter.

Yeah, okay. @smashingconf has been an unforgettable experience this year as my first time, and honestly, I'd love to go back over and over and over again because it really is that good.
Cassie is an international speaker and developer with a background in graphic design and motion design. She has written for CSS-Tricks and Codrops and has thrown workshops for Smashing Magazine. She currently works as a creative developer and educator at GreenSock.

When learning to code she was blown away by how supportive the web community was and loves nothing more than giving back and passing this knowledge on to new developers. Her favourite motto for teaching others is "assume zero experience but infinite intelligence".

She loves creating and encouraging spaces for people to share, learn and bounce ideas off each other.

When she's not tinkering on the web, she's off having adventures in the English countryside with her best pal Brody — the most wonderful dog in the world.

Harrison builds teams, inspires through storytelling, and communicates complex design ideas to both technical and non-technical audiences to ensure that products are as effective as they are beautiful.

Currently, he's a Director of Product Design at LinkedIn, where he focuses on people management and building the vision for consumer and enterprise experiences.

Outside of work, he enjoys contributing to the UX Design community through articles, interviews, and speaking about all things design. This interest inspired him to launch Technically Speaking with Harrison Wheeler, a podcast about BIPOC designers, entrepreneurs & technologists sharing their unique challenges, triumphs, and the "why" behind their decisions.

Jason is a Principal Designer at Chewy.com, helping lead their design system efforts across ecommerce, enterprise, and native mobile app experiences. Prior to joining Chewy, he led the team in creating a new web platform for the State of Rhode Island; redefined the typography and design system for the State of Georgia Digital Service; and helped numerous type foundries, web browsers, and software companies figure out how to make the most of the new variable font format in their products and brands.

Jason also researches and writes on typography for the web: a collection of newsletters on his site RWT.io, author of Responsive Typography from O'Reilly, as well as articles for .Net Magazine, PRINT Magazine, HOW, Monotype.com, TYPE Magazine, and others. He's also a frequent guest on podcasts, and an author of online courses for Aquent's Gymnasium platform and Front-end Masters, and has presented at over 100 national and international conferences. He also had the honor of being inducted into the Rhode Island Design Hall of Fame in 2019.

The real story: mainly he just follows Leo around Turner Reservoir, posting photos on Instagram.

Una Kravets is a Brooklyn-based developer who's making the web more styleable as a Developer Advocate at Google Chrome. Previously, she was the Director of Product Design at Bustle Digital Group and worked on building maintainable design systems as a UI Engineer at both DigitalOcean and IBM Design.

She also co-host two web development podcasts: Toolsday, and the CSS Podcast, as well as the web video series Designing in the Browser. She creates technical illustrations called Dev Doodles, does brush lettering and calligraphy, and started technical meetup groups in Washington and Austin.

Henri is Head of Developer Community at WebPageTest, who has turned his interests into a passionate mix of site performance engineering and pinches of user experience.

When not reading the deluge of daily research docs and case studies, or auditing sites, Henri can be found contributing back to the community: Toronto Web Performance Group meetup + Jamstack TORONTO organizer + curating conference content or volunteering his time for lunch and learns at various bootcamps.

Additionally, you can find him frequenting conferences and touching base w/ the community - all with a radiant smile. Otherwise, Henri focuses on running the fastest 5k possible (surprise surprise).

Christine Vallaure is the founder of moonlearning.io, a UX, UI Design, and Figma learning platform where design meets code.

With years of experience working for leading brands, agencies, and startups across Berlin, Mexico City, and London, she is now based in sunny Madrid.

Christine is passionate about sharing her expertise in web and app design, particularly in the areas where design and technology intersect.

In addition to creating video tutorials on moonlearning and YouTube, Christine also writes about design and code on her Medium blog, and Twitter, providing insights into the latest developments in the industry.

Átila Fassina is on a mission to make code simple. When not recording screencasts or courses, you may find him either writing and talking about jamstack, performance, or developer tooling.

Currently, he works as Senior Developer Experience Engineer at Xata and he writes for Smashing Magazine.

Illustrator and animator based in Paris, Guillaume creates colorful and living mini worlds, populated by friendly characters and curious vehicles.

Evangelina Ferreira is a Front-end developer and teacher. She currently works as a UI Developer and has been teaching web technologies at the National Technological University of Argentina for more than five years.

Throughout her career Evangelina has been deeply involved in the Argentinian web community. She enjoys giving workshops and talks and since 2015 she has been organizing CSSConf Argentina, an international non-profit event that brings experts from all around the globe to speak about web technologies.

In her spare time she loves reading W3C drafts as much as Harry Potter, creating animations and playing with her cats.

Obviously, our Mystery Speaker is a bit of a… well, Mystery. In true smashing style, you can expect something wonderful. Make sure to set your alarm on day two of the conference, because you don't want to miss this.

Vitaly Friedman loves beautiful content and doesn't like to give in easily. When he is not writing or speaking at a conference, he's most probably running front-end/UX workshops and webinars. He loves solving complex UX, front-end and performance problems.