Speakers
Want to learn shiny new things about front-end and design? Our friendly, knowledgeable and approachable speakers will help and inspire you. You'll also have time to ask all your questions!
Our speakers and workshop teachers are the best in their fields, and they love to share what they know, how they work and what drives them. On top of that, they are all smashingly nice, and really want to help!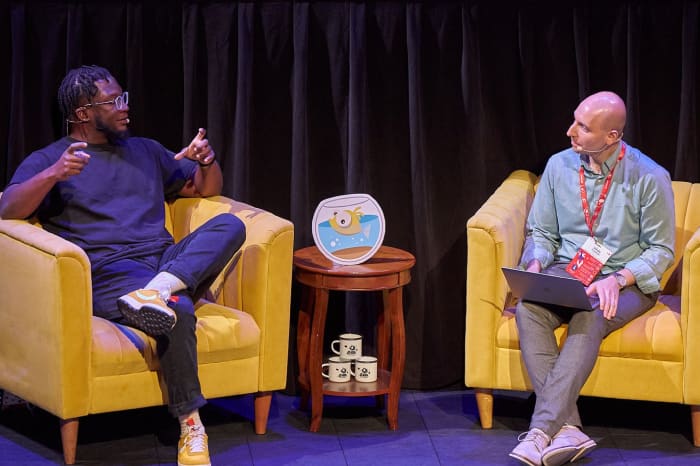 Brad Frost is a design system consultant, front-end developer, speaker, writer, musician, and artist located in beautiful Pittsburgh, PA. As a principal and design system consultant at Big Medium, he helps teams establish and evolve design systems, establish more collaborative workflows, and create better software together. He is the author of the book Atomic Design, which introduces a methodology to create and maintain effective design systems. He co-hosted the Style Guides Podcast and has helped create several tools and resources for web designers, including Pattern Lab, Styleguides.io, Style Guide Guide, This Is Responsive, Death to Bullshit, and more.

Nick DiLallo is a writer based in Brooklyn. He specializes in helping companies integrate writing with design to launch great brands and digital products. His approach blends copywriting with UX writing, and he's written extensively about the way good writing can help make the internet better for everyone.

In his career, he's worked at top digital agencies like Huge and Work & Co. And he's worked with some of the world's most admired companies, including Apple, Etsy, IKEA, the MTA, and Planned Parenthood.

Nathan co-founded EightShapes with Dan Brown in 2006. He's passionate about information architecture, UX, front-end dev, and leads design systems consulting at EightShapes. He wrote Modular Web Design in 2009, blogs frequently on Medium.com today, and speaks regularly at events worldwide.

Vitaly Friedman loves beautiful content and doesn't like to give in easily. When he is not writing or speaking at a conference, he's most probably running front-end/UX workshops and webinars. He loves solving complex UX, front-end and performance problems.

Obviously, our Mystery Speaker is a bit of a… well, Mystery. In true smashing style, you can expect something wonderful. Make sure to set your alarm on day two of the conference, because you don't want to miss this.