Speakers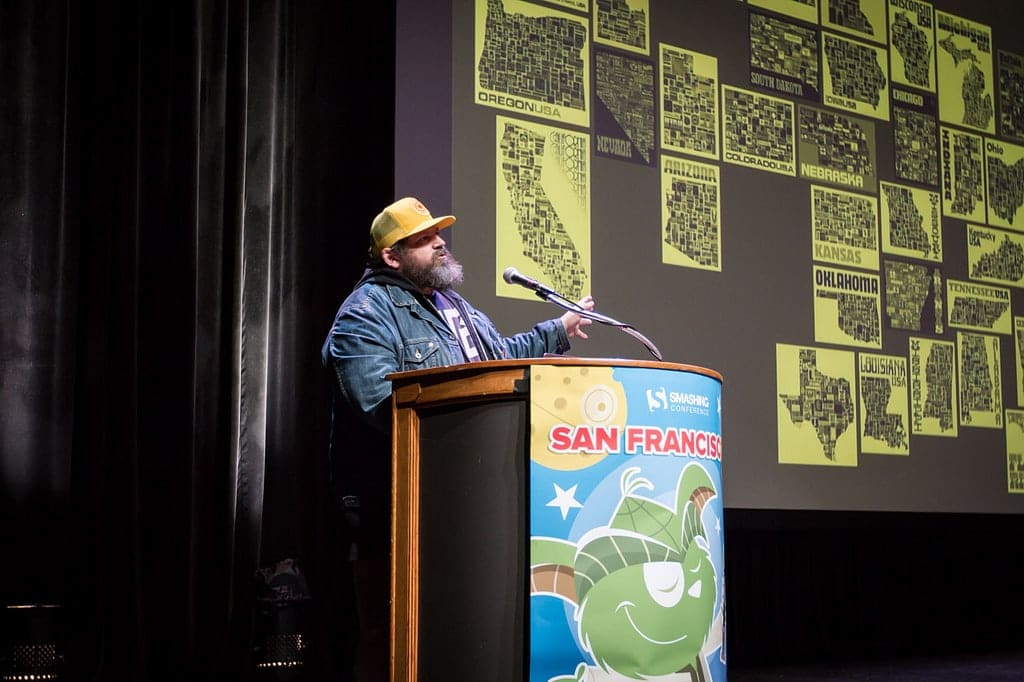 The hunt for shiny front-end & UX treasures has begun! For our fifth SmashingConf San Francisco, we'll explore how to apply psychology to UX, design workflow, refactoring, moving to a static site setup, CSS Grid techniques, performance, deployment patterns for HTTP/2 and how to provide better estimates and pricing.
Below are the speakers who will present their workflows, techniques and strategies at SmashingConf San Francisco. If you want to stay updated on the latest speakers and topics, please follow us on Twitter.

Brad Frost is a design system consultant, front-end developer, speaker, writer, musician, and artist located in beautiful Pittsburgh, PA. As a principal and design system consultant at Big Medium, he helps teams establish and evolve design systems, establish more collaborative workflows, and create better software together. He is the author of the book Atomic Design, which introduces a methodology to create and maintain effective design systems. He co-hosted the Style Guides Podcast and has helped create several tools and resources for web designers, including Pattern Lab, Styleguides.io, Style Guide Guide, This Is Responsive, Death to Bullshit, and more.

Sara Soueidan is a Lebanese freelance front-end UI/UX developer working with companies across the globe, building clean, responsive front-ends for Web sites and applications focused on accessibility, progressive enhancement and performance.

She also runs workshops on front-end development and writes technical articles on her blog and for various big publications.

Sara wrote the Codrops CSS Reference, co-authored the Smashing Book 5, and has been voted the Developer of the Year in the 2015 net awards.

Miriam is an artist, engineer, and open-web advocate. She's a co-founder of OddBird, Invited Expert on the W3C CSS Working Group, and Sass core contributor who enjoys pushing the boundaries of web technology.

These days she's working on specifications for Container Queries, Scope, and Cascade Layers in CSS; extending the Sass color module to support wide-gamut colors; and learning to crochet socks.

Chris is a web designer and developer. He created and runs CSS-Tricks, a website all about building websites, now going strong for 10 years.

He is also the co-founder of CodePen, a playground for front-end web development. It's a social development environment for front end designers and developers.

Chris has spoken at events and given workshops all over the world, as well as written two books: Practical SVG and Digging Into WordPress.

Anna works as a Software Engineer at the web security company, Castle. She is always trying to find ways to make people fall in love with coding and has a long history of organizing coding workshops for WebMuses and Rails Girls.

In her spare time she is into skateboarding, travelling and reading books.

Darin Senneff is a freelance designer and developer based in Brooklyn, NY. With a background in design, development, and animation, he marries the visual and technical worlds to create experiences that are innovative and emotional (and sometimes even a little bit weird). Formerly the Director of Design at Column Five, and Art Director at Blueprint Interactive, Darin now works with startups, tech companies, and agencies to create fun and usable interfaces.

Jennifer is a staff design researcher at Dropbox where she helps teams discover and solve meaningful problems through the power of fieldwork, facilitation, co-creation, and visioning.

Over the past 10 years, she's worked with organizations like Art+Feminism, The New York Times, Apple, Vice, and O'Reilly to redesign existing products and invent new ones.

She loves riding funiculars, ferries, bicycles, and her Vespa. 🛵

Jen Simmons is a Designer and Developer Advocate at Mozilla, where she advocates for web standards and researches the coming revolution in graphic design on the web.

Jen launched her first client website in 1998 and spent years making sites for small businesses, arts organizations, and creative individuals. Her more well-known clients include CERN, the W3C, Google, Drupal, Temple University, and the Annenberg Foundation.

Besides designing for the web, Jen has years of experience designing for live performance and for print. Her projection and lighting design work has shown at theaters including the BAM Next Wave Festival, the National Theater of Belgrade, The Off Center, and Jump-Start Performance Co. Her short films toured film festivals around the globe, including RESFEST, Media That Matters, and on MTV Television. Jen is the host and executive producer of The Web Ahead. She taught digital media to high school kids in San Antonio and film production to college students in Philadelphia. Jen earned a MFA in Film and Media Arts from Temple University. She lives in New York City.

Jeremy Wagner is a web developer living on the client side. He specializes in web performance, and writes about it when so inclined. He's also the author of The WebP Manual, a guide on the WebP image format for Smashing Magazine.

Katie is a Staff Software Engineer on the Front-end Systems team at Etsy, where she advocates for and implements front-end best practices in collaboration with product engineers and designers. She is passionate about front-end architecture, design systems, accessibility, front-end performance, and teaching others.

Katie co-authored the Design Systems Handbook, but her proudest accomplishment is creating ohshitgit.com to share her hard-won knowledge of how to get out of your git messes with a bit of humor (and a lot of swears).

Jason is a Principal Designer at Chewy.com, helping lead their design system efforts across ecommerce, enterprise, and native mobile app experiences. Prior to joining Chewy, he led the team in creating a new web platform for the State of Rhode Island; redefined the typography and design system for the State of Georgia Digital Service; and helped numerous type foundries, web browsers, and software companies figure out how to make the most of the new variable font format in their products and brands.

Jason also researches and writes on typography for the web: a collection of newsletters on his site RWT.io, author of Responsive Typography from O'Reilly, as well as articles for .Net Magazine, PRINT Magazine, HOW, Monotype.com, TYPE Magazine, and others. He's also a frequent guest on podcasts, and an author of online courses for Aquent's Gymnasium platform and Front-end Masters, and has presented at over 100 national and international conferences. He also had the honor of being inducted into the Rhode Island Design Hall of Fame in 2019.

The real story: mainly he just follows Leo around Turner Reservoir, posting photos on Instagram.

David Peter Simon is a design researcher on Dropbox Paper, where he helps designers envision experiments and product managers answer roadmap-defining business questions. Before Dropbox, David worked as a consultant in 12 countries on 6 continents, with clients including Amnesty International, Standard Bank, GUCCI, hepsiburada, UNICEF, and the UK government. Outside work, David enjoys surfing small waves, cooking with a glass of wine, and playing peek-a-boo with his niece.

Vitaly Friedman loves beautiful content and doesn't like to give in easily. When he is not writing or speaking at a conference, he's most probably running front-end/UX workshops and webinars. He loves solving complex UX, front-end and performance problems.

Obviously, our Mystery Speaker is a bit of a… well, Mystery. In true smashing style, you can expect something wonderful. Make sure to set your alarm on day two of the conference, because you don't want to miss this.

Rachel Andrew is a front and back-end web developer, author and speaker. Author or co-author of 22 books including The New CSS Layout and a regular contributor to a number of publications both on and offline. Rachel is co-founder of the CMS Perch and Notist, Editor in Chief of Smashing Magazine, a Google Developer Expert and an Invited Expert to the CSS Working Group. She writes about business and technology on her own site at rachelandrew.co.uk.