Speakers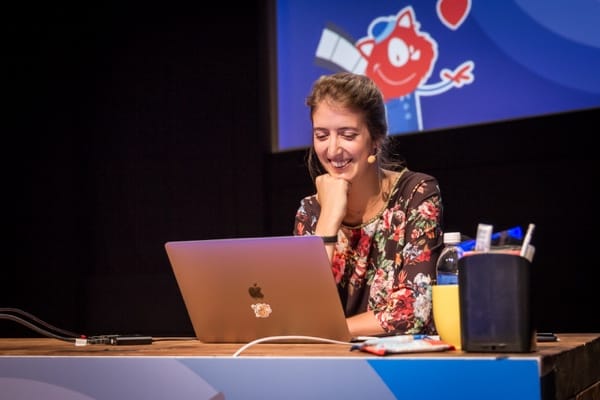 For our second SmashingConf Toronto (June 25–26), we'll explore the bright and dark sides of front-end and UX — Animation, Designing for Touch, Jamstack, GDPR and Privacy, Design Systems, Design Across Cultures, Rendering Performance, CSS Grid Layout, PWA and Vue.js.
Want to stay updated on the latest speakers and talk topics, well why not follow us on Twitter? ;-)

---
Phil Nash is a developer evangelist for Twilio. Sometimes he writes code on stage in front of a crowd, praying inside that everything works. Sometimes he writes open source code, which is much less stressful because if it is wrong someone else can correct it. He blogs on this site and on the Twilio blog and you'll find plenty of code there too.

Jenny Shen is a UX Consultant who has worked with numerous startups and brands including Neiman Marcus, Crate&Barrel, eBuddy, IBM, TravelBird and Randstad. Her current focus is helping businesses innovate and designing inclusive product experiences for global users. Jenny is a member of Toptal, a global talent network and she has received a Top 40 under 40 honour from Girls in Tech Taiwan.

With a passion for helping newcomers in UX to grow, she mentors designers under her mentorship program. In her spare time, she is advocating for diversity and working on global community strategy as the Regional Director of EMEA at Ladies that UX, an international non-profit organization active in over 50 cities around the world.

Brad Frost is a design system consultant, front-end developer, speaker, writer, musician, and artist located in beautiful Pittsburgh, PA. As a principal and design system consultant at Big Medium, he helps teams establish and evolve design systems, establish more collaborative workflows, and create better software together. He is the author of the book Atomic Design, which introduces a methodology to create and maintain effective design systems. He co-hosted the Style Guides Podcast and has helped create several tools and resources for web designers, including Pattern Lab, Styleguides.io, Style Guide Guide, This Is Responsive, Death to Bullshit, and more.

Scott Jehl is a designer/developer at Filament Group who lives in sunny Florida, USA. Scott is a tireless advocate of practices that ensure web access for all. He is a frequent presenter at conferences throughout the world and is always chipping away at various open source projects with his colleagues at Filament.

Scott is the author of Responsible Responsive Design (2014, A Book Apart), and co-author of Designing with Progressive Enhancement (2010, New Riders). Scott also loves to surf.

Jules Forrest is a senior product designer leading design systems at Credit Karma. She focuses on creating internal tools that help teams ship high-quality and accessible products.

She also built Women Who Design, a directory of accomplished women in the design industry. Outside of work, she likes experimenting with CSS Grid on CodePen.

Chris is an independent animator, illustrator and interactive designer from the UK. He specialises in delicious interactive SVG animation and has worked his magic on some of the world's biggest (and smallest) companies. His fresh and experimental approach to his work has been recognised with multiple CSS Design awards and recently he's noticed he has an unnatural obsession with eggs and outer space.

Sarah Drasner is the Director of Engineering, Core Developer Web at Google. She is author of Engineering Management for the Rest of Us, an award-winning speaker, and Vue core emeritus. Sarah is formerly VP at Netlify, Principal Lead at Microsoft, and Manager at Trulia/Zillow Group. She's an O'Reilly author and co-organizer of ConcatenateConf, a free conference for Nigerian and Kenyan developers.

Steven Hoober wrote the book on mobile design patterns, and is best known for his ongoing research into how people really use touchscreen phones and tablets. He is a reformed unicorn who has been a DBA and a FED but has focused on designing for mobile and multi-channel products since 1999, designing the first Google mobile search, the first mobile app store (for Sprint), mobile browsers including parts of the Samsung one you might be using right now, websites like Weather.com and Lowe's home improvement, and apps for companies like Hallmark, US Bank and Cummins diesel.

Steven maintains a repository of mobile design and development information including all the content from the O'Reilly book Designing Mobile Interfaces at the 4ourth Mobile Patterns Wiki, regularly writes for UX Matters magazine, and UX Magazine, among other writing and speaking.

Phil is Director of Developer Experience at Netlify.

With a passion for browser technologies, and the empowering properties of the web, he loves seeking out ingenuity and simplicity, especially in places where over-engineering is common.

After more than 20 years of building web applications for companies such as Google, Apple, Nike, R/GA, and The London Stock Exchange, Phil has worked to challenge traditional technical architectures in favour of simplicity and effectiveness.

Phil is co-author of "Modern Web Development on the Jamstack" (O'Reilly, 2019)

Kristina Podnar is a digital policy innovator. For over two decades, she has worked with some of the most high-profile companies in the world and has helped them see policies as opportunities to free the organization from uncertainty, risk, and internal chaos.

Podnar's approach brings in marketing, human resources, IT, legal, compliance, security, and procurement to create digital policies and practices that, of course, comply with regulation. More importantly though, they unlock opportunity, strengthen the brand and liberate employees to drive innovation.

Her book The Power of Digital Policy was released in March 2019.

Vitaly Friedman loves beautiful content and doesn't like to give in easily. When he is not writing or speaking at a conference, he's most probably running front-end/UX workshops and webinars. He loves solving complex UX, front-end and performance problems.

Rachel Andrew is a front and back-end web developer, author and speaker. Author or co-author of 22 books including The New CSS Layout and a regular contributor to a number of publications both on and offline. Rachel is co-founder of the CMS Perch and Notist, Editor in Chief of Smashing Magazine, a Google Developer Expert and an Invited Expert to the CSS Working Group. She writes about business and technology on her own site at rachelandrew.co.uk.

Diana leads the Design Infrastructure team at GitHub. Over the past 3+ years, Diana has led large-scale updates to GitHub's UI, helped improve the operations of the Product Design org, and built a team of talented systems designers and engineers that are continuing to evolve Primer—GitHub's open-source design system.

In her spare time, Diana runs the NYC Chapter of the Design Systems Coalition. She also coauthored the Design Systems Handbook, and writes and speaks about design, code, and team collaboration.

Dan is a designer and partner at Adjacent, a focused design studio in Syracuse, NY. His wheelhouse is interface design, bridging together art direction and front-end development. He's a co-founder of Create Upstate, a design conference in Upstate NY, and the author of Photoshop Etiquette, a guide to discernible web design. Yes, he still uses Photoshop.

Obviously, our Mystery Speaker is a bit of a… well, Mystery. In true smashing style, you can expect something wonderful. Make sure to set your alarm on day two of the conference, because you don't want to miss this.